It is a simple business fact that wholesalers profit from buying in bulk and the bigger the purchase, the stronger their bargaining power. Well, normal shoppers can also save a hefty chunk of change from buying in bulk too, but of course, our discounts are not in the same league.

To save money from our grocery shopping, we have to first get disciplined. A trip to the grocery store is anything but simple. An impulse trip can quickly add up to a huge bill, even more so if you go grocery shopping when you are feeling hungry.

Don't go to the grocery just hours before you cook your dinner. You could end up bursting your budget when you cannot resist all the delicious gourmet food decked before your eyes.

A single purposeful trip can save you time, gas, and of course, money. But before you embark on your bulk shopping, make a list of all items, from your routine toothpaste to vegetables and chicken fillets.

Go to the store and take notes of how much you normally pay for each item and the current price per unit. Once you have your shopping list and prices written out, it is time to compare costs. Often, buying in bulk should give you a discount but there could be exceptions. So, having an understanding of market prices prevent any rip-off.

The best places to sniff out are your neighborhood warehouse clubs. Sam's and Costco are great bulk shopping stores. If there are no nearby warehouse shopping clubs, you can still enjoy savings from buying in bulk at grocery stores.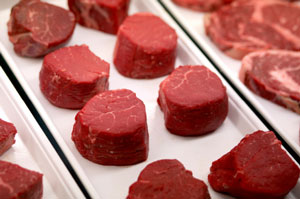 Meat is one item which my family pick up in large amounts, usually at a savings of a few cents per pound. Though that sounds little, those savings add up when buying ten pound packages several times during the year.

Besides the conventional brick and mortar stores, you can also do some bulk shopping online now. Stores such as Amazon are offering a grocery section where you can buy bulk groceries and have them shipped to your home.

Amazon even offers free shipping on orders of $25 or more for eligible products and has an option to set your selections to be delivered on a schedule of your choosing. However, you must still check out the price per unit of each item to ensure that you are really saving money.

Shopping in bulk is a really great way to reduce our grocery expenses and save money. The hardest part is to form the habit of preparing a list, after that, finding the best buy becomes very simple.

Knowing where to shop and buying in bulk has reduced our grocery expenses by about 40% as compared to those days when we just bungled into grocery stores and make impulse purchases.